Charging Forward
2014
pastel on paper
25 1/2 x 19 5/8 inches
Orange Cluster
2014
pastel on paper
19 5/8 x 25 1/2 inches
Orange Heap
2014
pastel on paper
19 5/8 x 19 inches
Window on NYC
2014
pastel on paper
25 1/2 x 19 3/4 inches
White
2013
pastel on paper
25 1/2 x 19 1/2 inches
Three Lemons, and a Half
2013
pastel on paper
19 1/2 x 25 1/2 inches
Sunflower Sprawl
2013
pastel on paper
30 x 21 1/2 inches
Spiraling Yellow Tulips
2013
pastel on paper
19 1/2 x 12 1/2
Pattie's Peaches
2013
pastel on paper
19 1/2 x 25 1/2 inches
Outside Green
2013
pastel on paper
25 1/2 x 19 1/2 inches
Gerber Daisy Fan
2013
pastel on paper
19 1/2 x 25 1/2 inches
Entering Breeze
2013
pastel on paper
30 x 21 1/2 inches
Dark Inside
2013
pastel on paper
29 1/2 x 21 1/2 inches
Horizontal White
2013
pastel on paper
19 5/8 x 25 1/2 inches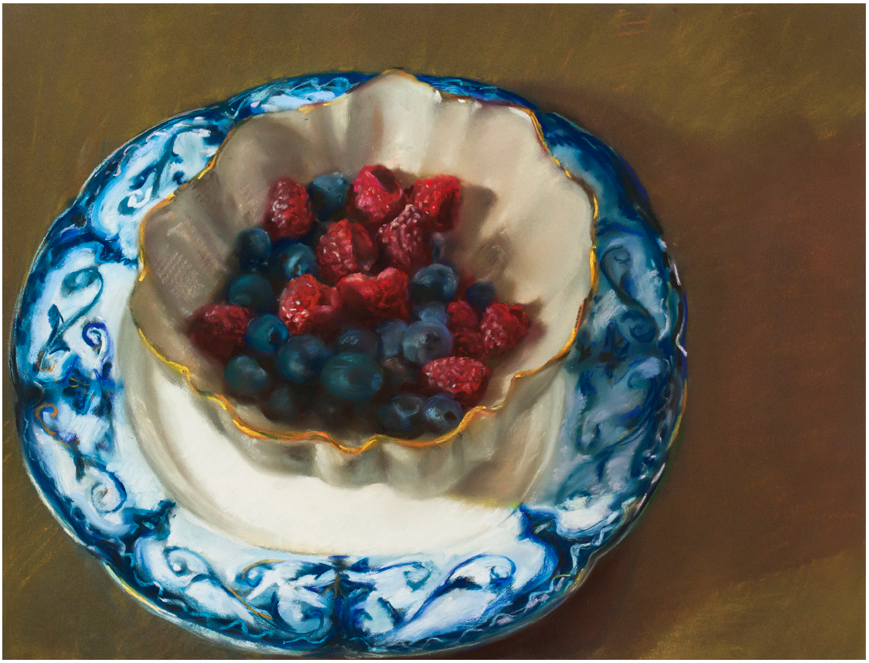 Blue
2013
pastel on paper
19 5/8 x 25 1/2 inches
Five
2013
pastel on paper
19 5/8 x 25 1/2 inches
Snowy Day
2012
pastel on paper
19 1/2 x 25 1/2 inches
Dark Spill
2012
pastel on paper
29 1/2 x 41 inches
Four Pears
2012
pastel on paper
19 1/2 x 25 1/2 inches
Breaking the Pattern
2012
pastel on paper
19 3/4 x 25 1/2 inches
Bagged Plums
2012
pastel on paper
19 5/8 x 25 1/2 inches
Orange
2012
oil on canvas
48 x 48 inches
August Heat
2012
pastel on paper
19 5/8 x 25 1/2 inches
Still Crisp
2011
pastel on paper
12 5/8 x 9 3/4 inches
Winter Fruit
2011
pastel on paper
25 1/2 x 19 1/2 inches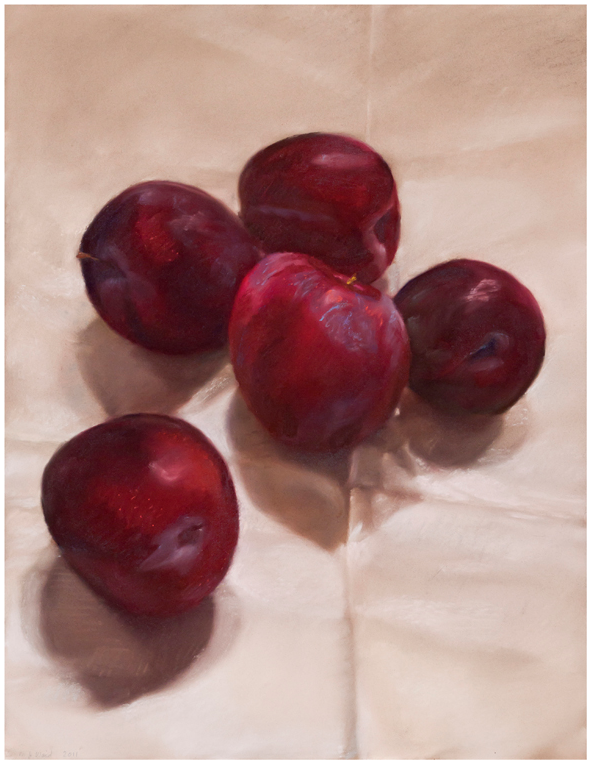 Plums
2011
pastel on paper
25 1/2 x 19 5/8 inches
New York Garden
2010
pastel on paper
19 5/8 x 25 inches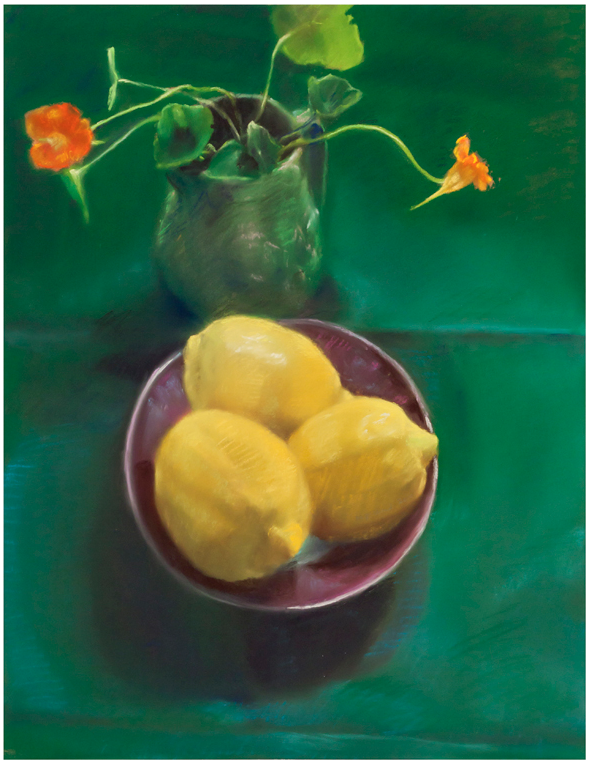 Lemons and Green
2010
pastel on paper
25 1/2 x 19 5/8 inches
Edges
2010
pastel on paper
25 1/2 x 19 5/8 inches
Helena's Bowl
2010
pastel on paper
25 1/2 x 19 5/8 inches
Soft Flesh
2012
oil on canvas
11 x 14 inches
Single Plum
2010
pastel on paper
12 3/4 x 9 3/4 inches
Examine
2014
pastel on paper
25 1/2 x 19 1/2
Record no. 3
2014
pastel on paper
11 3/4 x 9 inches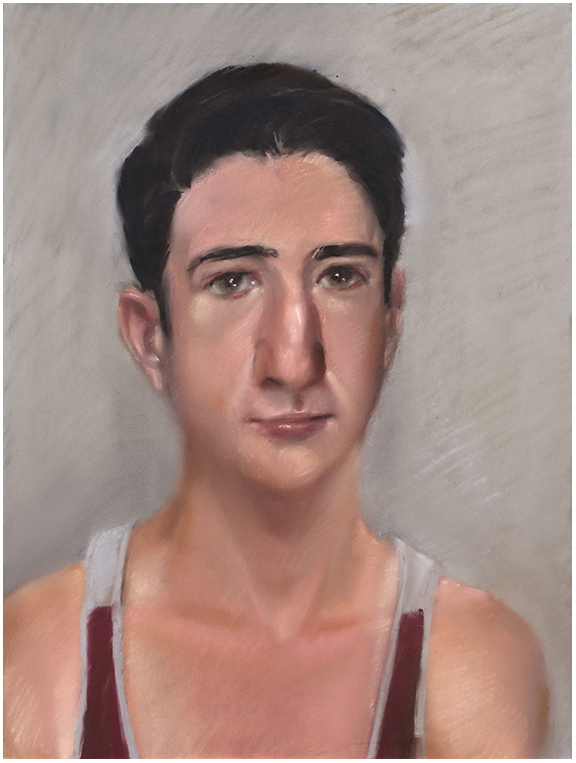 Declan
2013
pastel on paper
25 1/2 x 19 1/2 inches
Bianca
2012
pastel on paper
25 1/2 x 19 5/8 inches
In the Palm
2012
pastel on paper
25 1/2 x 19 5/8 inches
Vermont Sun
2009
pastel on paper
19 3/4 x 25 1/2 inches
Grandma's Pitcher with Cosmos
2009
pastel on paper
19 5/8 x 25 1/2 inches
Opened
2009
pastel on paper
12 3/4 x 19 5/8 inches
Morning Rays
2009
oil on canvas
36 x 36 inches
Curled Orange Peel
2009
pastel on paper
19 5/8 x 25 1/2 inches
Warm Weather Rewards
2008
oil on canvas
18 x 18 inches
 
Turned White
2008
oil on canvas
30 x 20 inches
Orange Spiral
2008
pastel on paper
19 5/8 x 25 1/2 inches
Summer Plenty
2008
oil on canvas
28 x 22 inches
 
Autumn Air
2008
pastel on paper
19 5/8 x 25 1/2 inches
Early Summer NYC
2007
oil on canvas
36 1/4 x 48 inches
Dark Summer Plums
2007
oil on canvas
20 x 24 inches
Traces
2006
pastel on paper
25 1/2 x 19 1/2 inches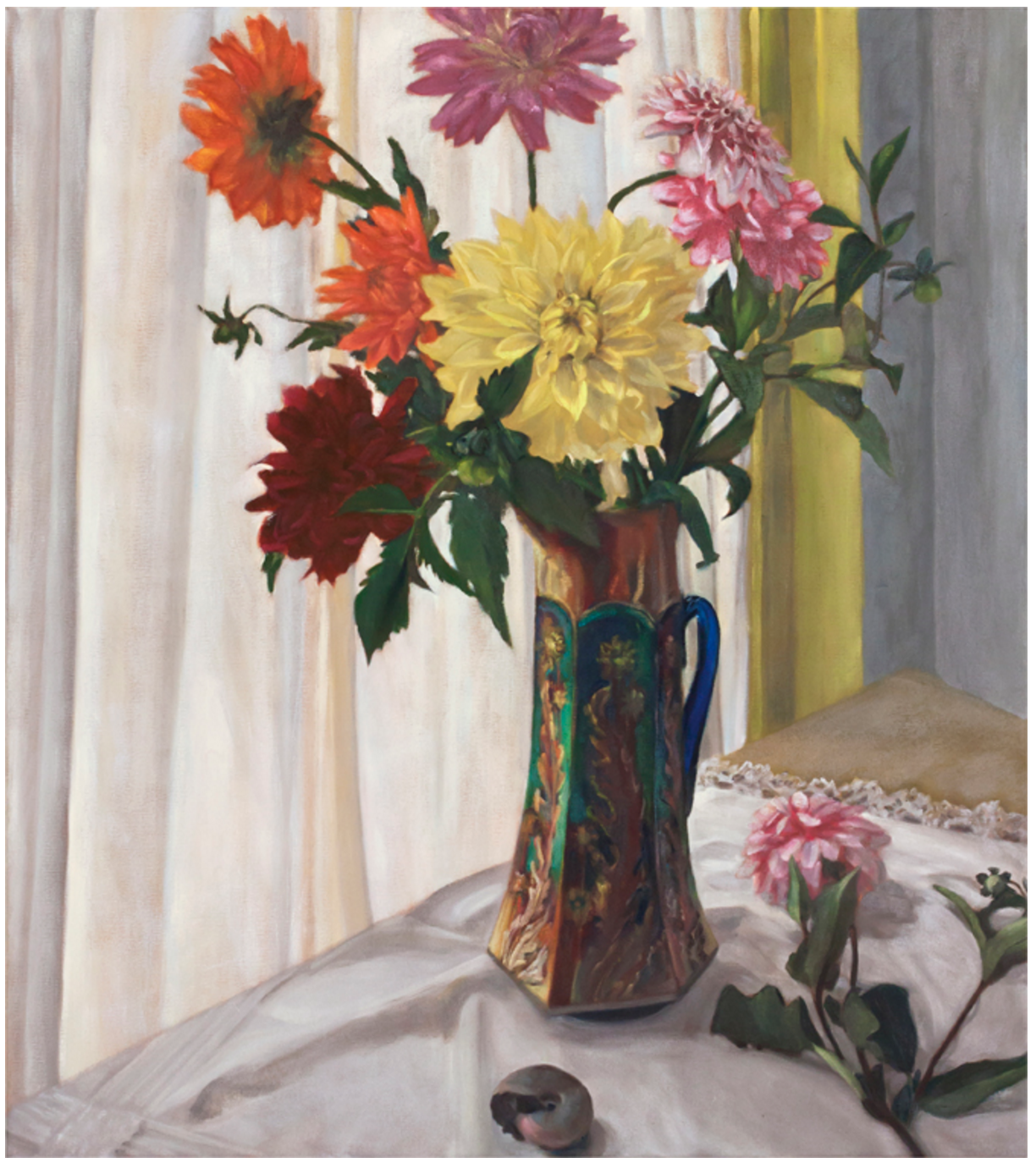 Carnival Glass and Summer Flowers
2006
oil on canvas
36 x 32 inches
Floating Scent
2004
oil on canvas
36 x 42 inches
Voluptuous
2002
oil on canvas
32 x 28 inches
Radiant Orient
2002
oil on canvas
40 x 36 inches
Under the Surface
2001
oil on canvas
30 x 30 inches
Window at Dawn
2000 - 2001
oil on canvas
40 x 34 inches
Summer Delights
2000
pastel on paper
30 x 22 1/2 inches
Spring Reveries
2000
pastel on paper
30 x 22 inches
Spring Rain
2000
pastel on paper
30 x 22 inches
Space in Between
2008
pastel on paper
25 x 19 5/8 inches
The Singer Revisited
2006
pastel on paper
29 3/4 x 22 inches
Weaving Stars
2005
pastel on paper
29 7/8 x 21 3/8
Urban Spring, Apple Branches
1999
oil on canvas
40 x 34 inches
Southern Comfort
1999
oil on canvas
36 x 30 inches
Darkness of Night
1998
oil on canvas
40 x 48 inches
Iris
1998
pastel on paper
19 7/8 x 25 7/8 inches
Emerging
1995
oil on canvas
40 x 48 inches
Bygone
1991 - 1992
oil on canvas
20 1/4 x 30 inches
View on Vermont
1990
oil on canvas
48 x 80 inches
Above the Trees
1988
oil on canvas
40 x 48 inches
Looking Upward
1995
pastel on paper
30 x 22 inches
Reflections on a Landscape
1988
oil on canvas
30 x 42 inches
Through the Glass IX
1987
pastel on paper
29 1/2 x 41 3/4 inches
Through the Glass II
1987
pastel on paper
41 3/4 x 29 1/2 inches
Looking from Within
1986
oil on canvas
50 x 60 inches
Begonia Diadem
1986
oil on canvas
48 x 60 inches
Barry
1986
pastel on paper
30 x 65 1/2 inches
Orchid
1978
oil on canvas
60 x 72 inches
Lily Rubrum
1978
oil on canvas
60 x 72 inches
Spider Plant
1975
oil on canvas
40 x 48 inches
Dream Series VI
1984
pastel on paper
29 3/4 x 41 1/2 inches
Dream Series III
1983
pastel on paper
29 3/4 x 41 1/2 inches
Dream Series II
1983
pastel on paper
29 3/4 x 41 1/2 inches
Chrysanthemum Scarf as Headress
1982
pastel on paper
22 1/2 x 30 inches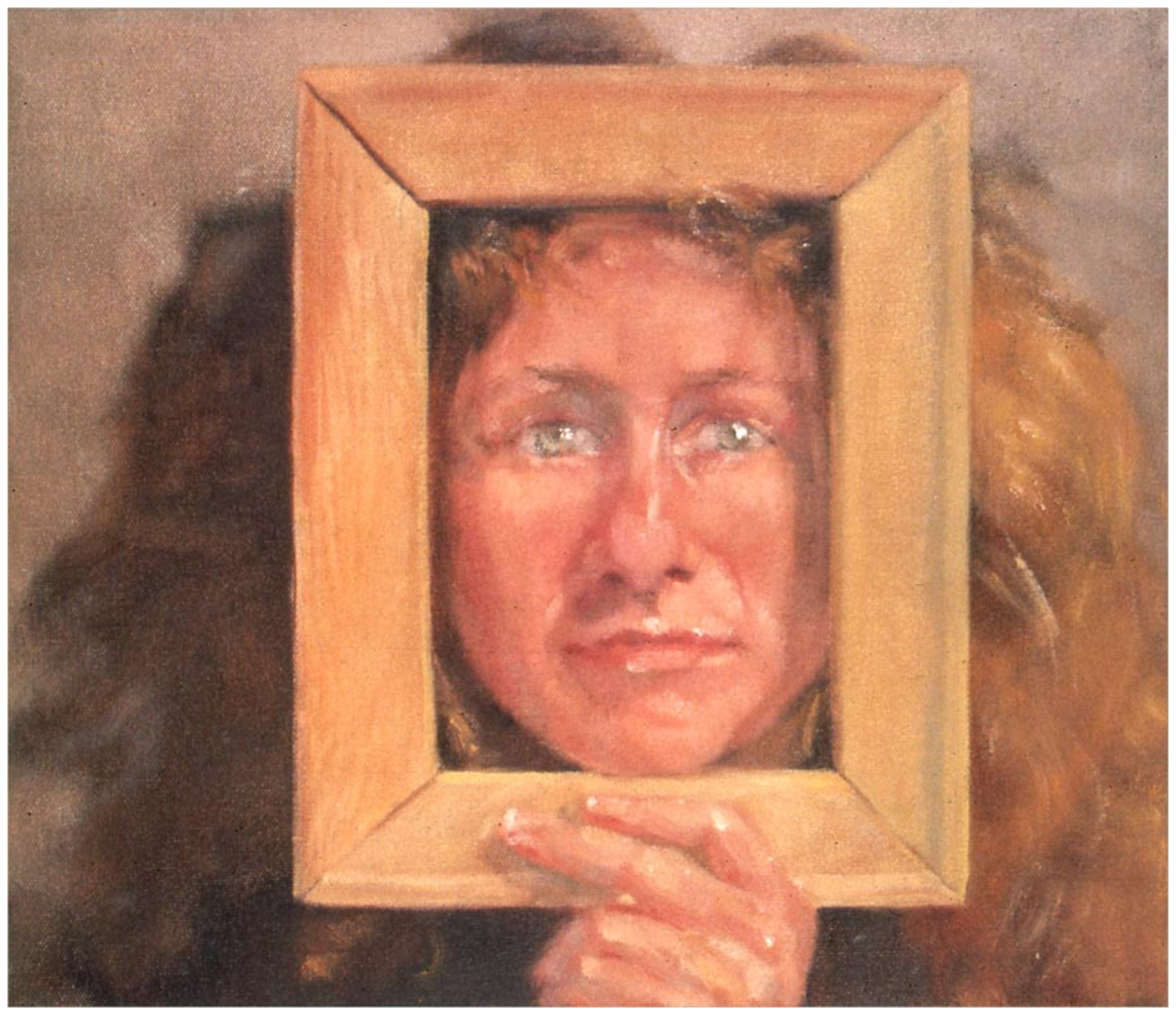 Margaret, Life-Size Variation
1981
oil on canvas
12 x 14 inches
Self-Portrait
1981
oil on canvas
40 x 48 inches
David
1980
oil on canvas
50 x 40 inches
2010 - Present
Now when I really see something…it's filled with light. Light exposes all—the color, the subtle edges where objects meet, or the contrasts where like colors but different substances meet. Even seemingly minor elements are essential, from the spaces between objects to the bit of dark table alongside a cloth. I am striving to share this magical, dynamic dance of light and color.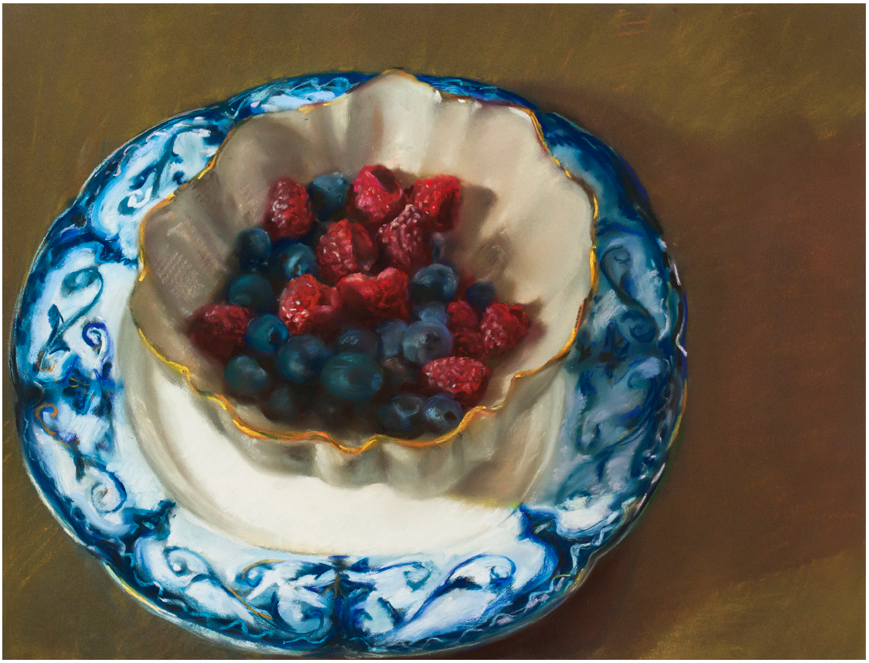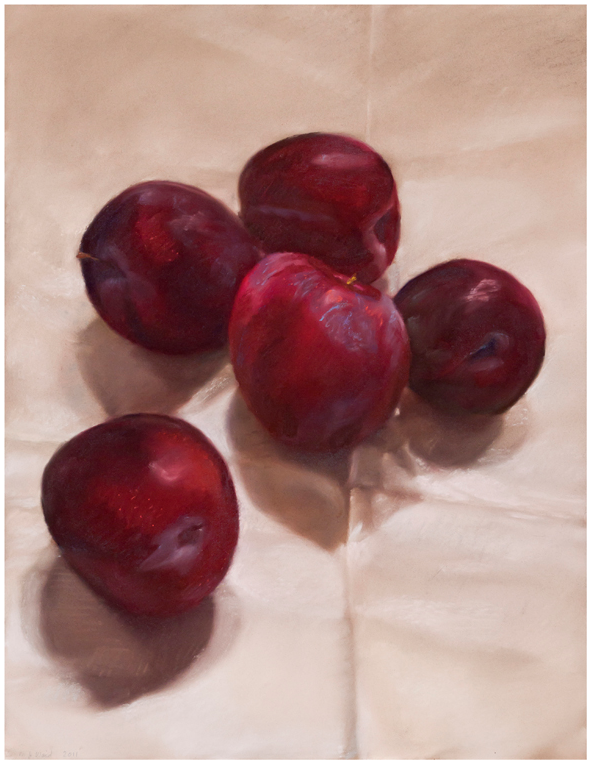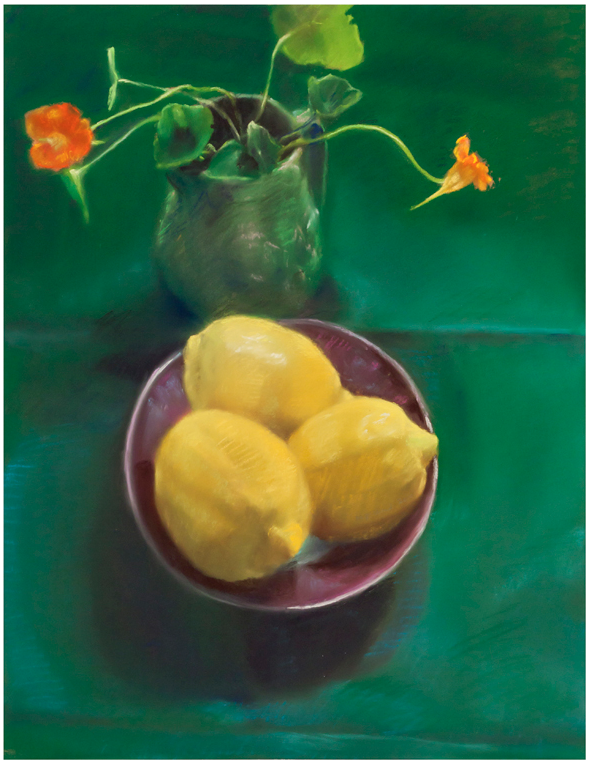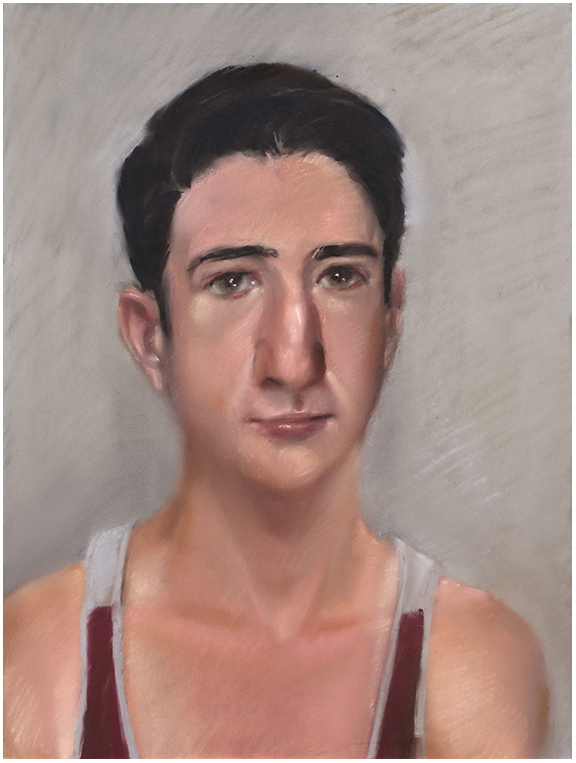 2000 - 2009
Once a collector asked what I was working on. I answered with a single word, "oranges." The answer felt so lame! Words just can't describe the endless visual possibilities in this every day fruit: the range of colors, weights, volumes, textures; the play of the opaque and transluscent flesh; the sphere, intact or cut or peeled, stacked or alone. There is an endless variety in life waiting to be noticed.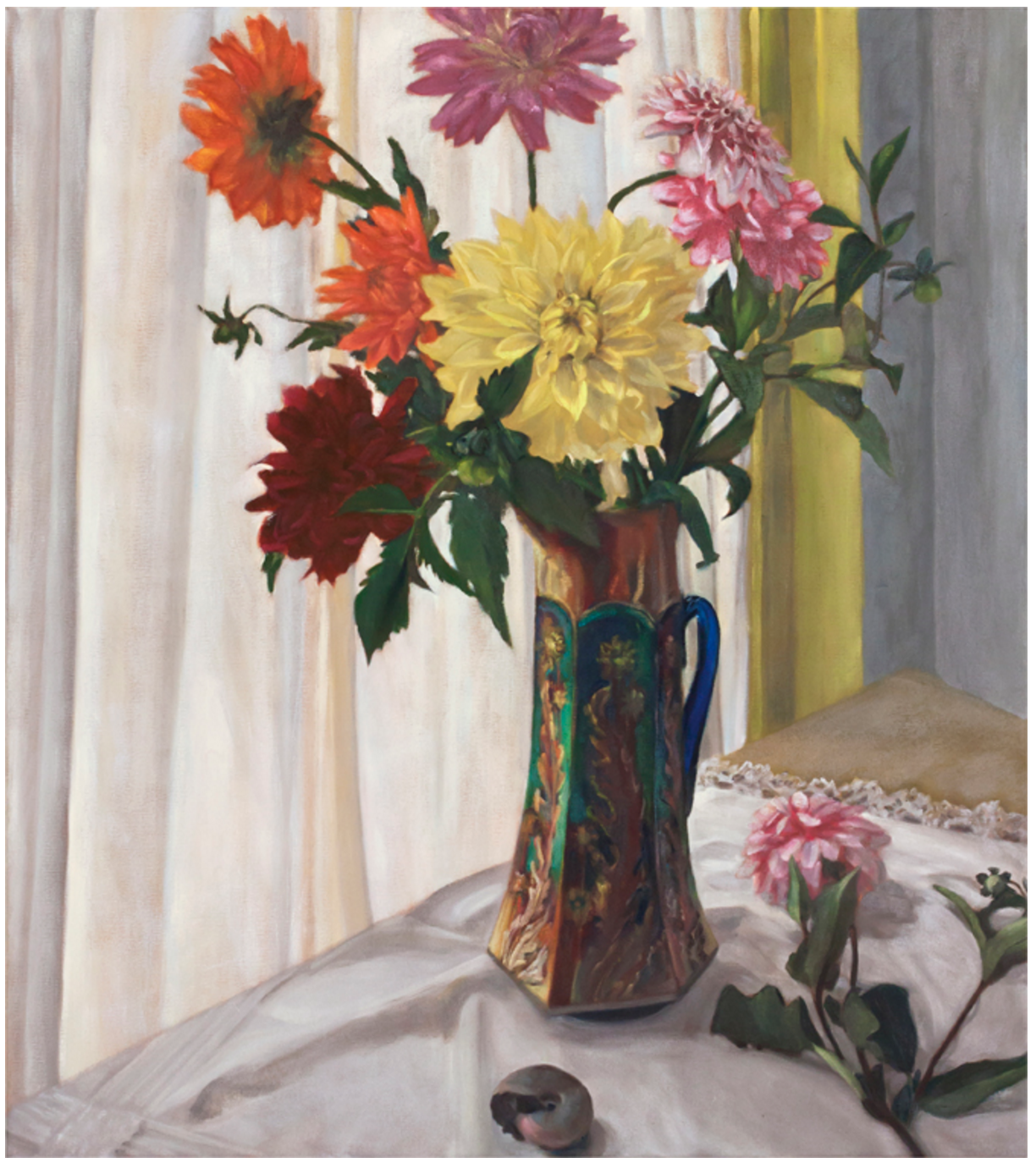 1985 - 1999
I can certainly agree some "realistic" object on a 2D surface is an illusion. The thought that what I see connects in some way beyond the working rectangle has been a thread in my work for decades. In the 1960s I simply added another visual dimension through open doors or mirror reflections. In the early 1970s I tried my hand at a literal 3D version with solid objects breaking out beyond the primary painting surface. These attempts did not satisfy the urge. The 2D illusion was more vital, for me. I continued to challenge the 2D surface with windows, mirrors, and reflections. In fact, the implication of connection beyond the rectangle is more satisfying, closer to the elusive truth.
1975 - 1984
Large scale flower details from the 1970s taught me to paint what I see, not what I know. With a loose idea of the abstract possibilities of the object on this 2D surface I began by detailed concentration at one spot and worked out inch by observed inch in all directions. Color and light seemed miraculous—the interiors of lilies or orchids appeared! After a residency at Yaddo I transferred this intensive direct observation to faces, including a series exploring repetition, time and change.